Manufacturer & Suppliers of API 5L Grade B Carbon Steel Seamless Pipe, API 5L Grade B Carbon Steel LSAW Pipes, API 5L Grade B Carbon Steel DSAW Pipes in PSL 1 and PSL 2
Since 1980,India's largest Suppliers of API 5L Carbon Steel Pipes in Special Steel Grades X42/X46/X52/X56/X60/X65/X70/X80 in PSL-1 & PSL-2
Click here for Latest Price list of API 5L Grade B Pipes in Special Steel Grades X42/X46/X52/X56/X60/X65/X70/X80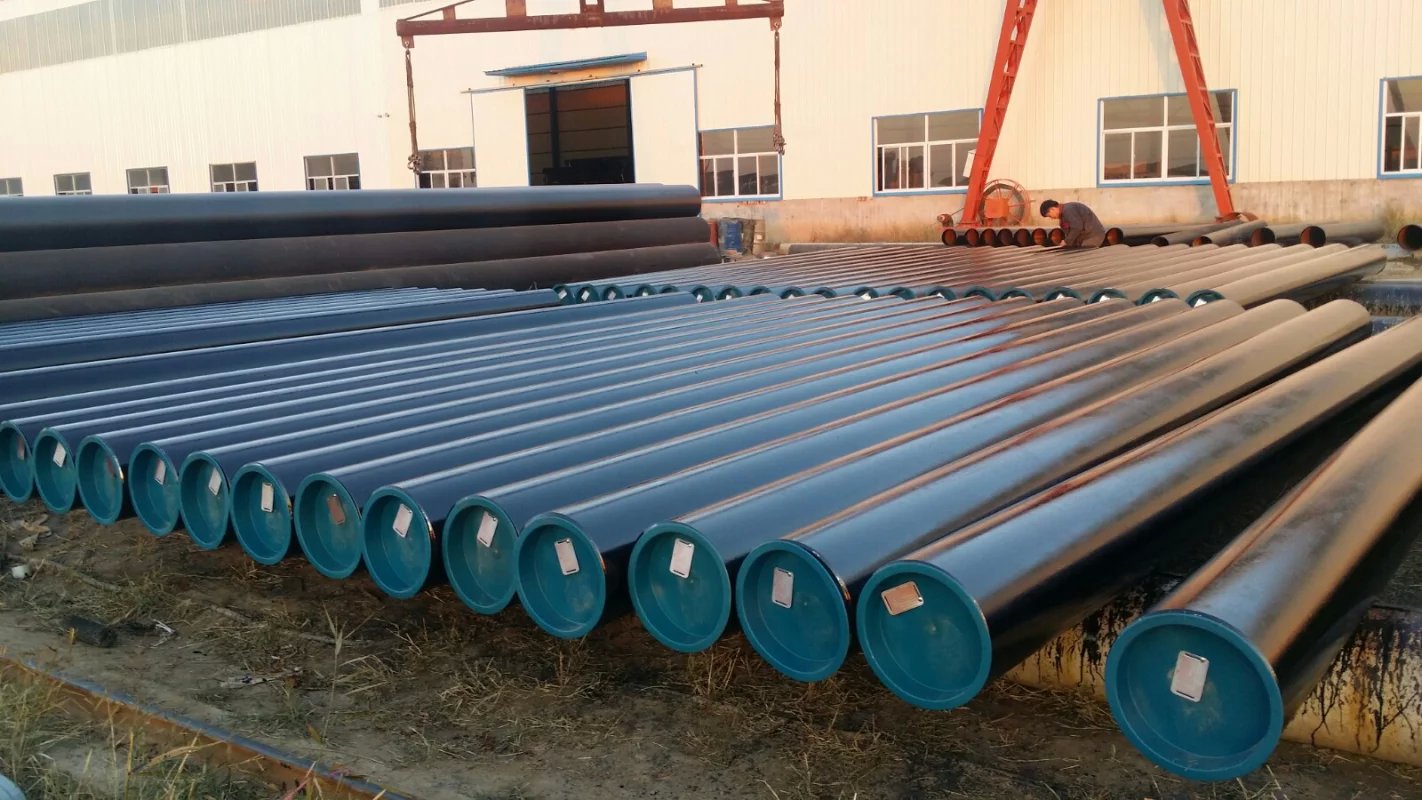 API 5L Grade B, X42, X46, X56, X60, X70, X80 Carbon Steel Seamless Pipe

Are you looking for Prime quality and High Grade API 5L Grade B Seamless or welded Pipe for offshore or beach front , Blossom Steel and Engineering Co. is one of most trusted Manufacturer,Suppliers and exporters of API 5L Seamless Line Pipe since 1980, Blossom Steel and Engineering Co. has become best admissions give in 2008 and Government Recognized Star convey House,Blossom Steel and Engineering Co. is embraced suppliers of API 5l Seamless Line Pipes and API 5L survey B pipe in GASCO,KNPC and SAUDI ARAMCO,certificates can be given on request to our customers.

The American Petroleum Institute assurance API 5L covers predictable and welded steel line pipe. Programming interface Line pipe is ideal and moderate directing response for transportation of gas, water, and oil. The particular warning gathering made apparent that there are two principal Product Specifications Levels (PSL) of specific requirements and along these lines made PSL 1 and PSL 2. PSL 1 is a standard quality for line pipe where PSL 2 contains additional compound, mechanical properties, and testing necessities. We pass on API 5L Grade B Pipe in API 5L X42 PSL1, API 5L X42 PSL2, API 5L X46 PSL1, API 5L X46 PSL2, API 5L X52 PSL1, API 5L X52 PSL2, API 5L X56 PSL1, API 5L X56 PSL2, API 5L X60 PSL1, API 5L X60 PSL2, API 5L X65 PSL1, API 5L X65 PSL2 , API 5L X70 PSL2.
| | |
| --- | --- |
| High Temperature Seamless Pipe | ASTM A106 Gr. B/C, API 5L Gr. B, ASTM A53 Gr. B |
| Heat Exchanger Seamless Tube | ASTM A179 |
| Low Temperature Seamless Pipe | ASTM A333 Gr. 3/6 |
| Low Temperature Seamless Tube | ASTM A334 Gr. 6 |
| High Yield Seamless Pipe | API 5L Gr. X42/X46/X52/X56/X60/X65/X70/X80 PSL-1/PSL-2 |
| High Yield Seamless Pipe | ISO 3183 Gr.L245, L290, L320, L360, L390, L415, L450, L485 |
| Atmospheric & Low Temp EFW Pipes | ASTM A671 Gr. CC60/CC65/CC70 |
| High Pressure & Moderate Temp EFW Pipes | ASTM A672 Gr. B60/B65/B70/C55/C60/C65/C70 |
| High Yield ERW/SAW Pipe | API 5L Gr. X42/X46/X52/X56/X60/X65/X70/X80 PSL-1/PSL-2 |
| High Yield ERW/SAW Pipe | ISO 3183 Gr.L245, L290, L320, L360, L390, L415, L450, L485 |
Additional Testing :

NACE MR0175, NACE TM0177, NACE TM0284, HIC TEST, SSC TEST, H2 SERVICE, IBR, etc.

Dimensions :

All Pipe is manufactured and inspected/tested to the relevant standards including ASTM, ASME, API.

API 5L Carbon Steel Seamless Pipes Types
API 5L GR. B Carbon Steel Seamless Pipes
API 5L X42 PSL1 Seamless Steel Pipe
API 5L X42 PSL2 Seamless Steel Pipe
API 5L X46 PSL1 Seamless Steel Pipe
API 5L X46 PSL2 Seamless Steel Pipe
API 5L X52 PSL1 Seamless Steel Pipe
API 5L X52 PSL2 Seamless Steel Pipe
API 5L X56 PSL1 Seamless Steel Pipe
API 5L X56 PSL2 Seamless Steel Pipe
API 5L X60 PSL1 Seamless Steel Pipe
API 5L X60 PSL2 Seamless Steel Pipe
API 5L X65 PSL1 Seamless Steel Pipe
API 5L X65 PSL2 Seamless Steel Pipe
API 5L X70 PSL1 Seamless Steel Pipe
API 5L X70 PSL2 Seamless Steel Pipe
API 5L Gr B Carbon Steel ERW Pipes and Tubes
Chemical CompositionAPI 5L PipesGrade B, X-42, X-46, X-52, X-56, X-60, X-65, X-70, X-80 in PSL1 Line Pipe
PSL 1

GRADE

Chemical Composition

Mechanical Property

C (Max)

Mn (Max)

P (Max)

S (Max)

TENSILE ( Min )

YIELD ( Min )

Psi X 1000

Mpa

Psi X 1000

Mpa

A25

CL I

0.21

0.60

0.030

0.030

45

310

25

172

CL II

0.21

0.60

0.030

0.030

A

0.22

0.90

0.030

0.030

48

331

30

207

B

0.26

1.20

0.030

0.030

60

414

35

241

X42

0.26

1.30

0.030

0.030

60

414

42

290

X46

0.26

1.40

0.030

0.030

63

434

46

317

X52

0.26

1.40

0.030

0.030

66

455

52

359

X56

0.26

1.40

0.030

0.030

71

490

56

386

X60

0.26

1.40

0.030

0.030

75

517

60

414

X65

0.26

1.45

0.030

0.030

77

531

65

448

X70

0.26

1.65

0.030

0.030

82

565

70

483
Chemical CompositionAPI 5L PipesGrade B, X-42, X-46, X-52, X-56, X-60, X-65, X-70, X-80 in PSL2 Line Pipe
PSL 2

GRADE

Chemical Composition

Mechanical Property

C

(Max)

Mn

(Max)

P

(Max)

S

(Max)

Tensile

Yield

C. E. IMPACT ENERGY

Psi x 1000

Mpa

Psi x 1000

Mpa

PCM

IIW

J

FT/LB

B

0.22

1.20

0.025

0.015

60 – 110

414 – 758

35 – 65

241 – 448

0.25

0.43

T/L 27/41

T/L 20/30

X42

0.22

1.30

0.025

0.015

60 – 110

414 – 758

42 – 72

290 – 496

0.25

0.43

T/L 27/41

T/L 20/30

X46

0.22

1.40

0.025

0.015

63 – 110

434 – 758

46 – 76

317 – 524

0.25

0.43

T/L 27/41

T/L 20/30

X52

0.22

1.40

0.025

0.015

66 – 110

455 – 758

52 – 77

359 – 531

0.25

0.43

T/L 27/41

T/L 20/30

X56

0.22

1.40

0.025

0.015

71 – 110

490 – 758

56 – 79

386 – 544

0.25

0.43

T/L 27/41

T/L 20/30

X60

0.22

1.40

0.025

0.015

75 – 110

517 – 758

60 – 82

414 – 565

0.25

0.43

T/L 27/41

T/L 20/30

X65

0.22

1.45

0.025

0.015

77 – 110

531 – 758

65 – 82

448 – 565

0.25

0.43

T/L 27/41

T/L 20/30

X70

0.22

1.65

0.025

0.015

82 – 110

565 – 758

70 – 82

483 – 565

0.25

0.43

T/L 27/41

T/L 20/30

X80

0.22

1.90

0.025

0.015

90 – 120

621 – 827

80 – 102

552 – 705

0.25

0.43

T/L 27/41

T/L 20/30
API 5L Grade B Line Pipe Physical Properties

Line pipe grade designations come from API Spec 5L Specification for Line Pipe. Standard Line Pipe has grade designation A and B. Stronger grades have the designation X followed by the specified minimum yield strength of the pipe steel, measured in kilopounds per square inch (abbreviated ksi), e.g. X60 for pipe having a minimum yield strength of 60 ksi. See the table below for the standard available grades.

Line Pipe Physical Properties
| | | | | |
| --- | --- | --- | --- | --- |
| API 5L Grade | | Tensile Strengthmin.(ksi) | Yield to Tensile Ratio(max.) | |
| A | 30 | 48 | 0.93 | 28 |
| B | 35 | 60 | 0.93 | 23 |
| X42 | 42 | 60 | 0.93 | 23 |
| X46 | 46 | 63 | 0.93 | 22 |
| X52 | 52 | 66 | 0.93 | 21 |
| X56 | 56 | 71 | 0.93 | 19 |
| X60 | 60 | 75 | 0.93 | 19 |
| X65 | 65 | 77 | 0.93 | 18 |
| X70 | 70 | 82 | 0.93 | 17 |
| X80 | 80 | 90 | 0.93 | 16 |
API 5L Grade B, x42,x46,x52,X56,x56,x60,x70 Carbon Steel Seamless Pipe is sleeved into plastic bag individually, pieces wrapped with water-proof material, bundled with nylon rope. Clear labels are tagged on the outside of the package for easy identification of the quantity and product I.D. Great care is taken during operation and transportation.

Difference Between PSL 1 and PSL 2of API 5L Grade-B, X-42, X-46, X-52, X-56, X-60, X-65, X-70, X-80 PSL1 PSL2 Line Pipe
PSL1
PSL2

CVN impact (Charpy) testing

None required

Required for all grades

Nondestructive inspection of seamless

Only when purchaser specifies SR4

SR4 mandatory

Certification

Certificates when specified per SR15

Certificates (SR 15.1) mandatory

Traceability

Traceable only until all tests are passed, unless SR15 is specified

Traceable after completion of tests (SR 15.2) mandatory

Hydrostatic Test

Required

Required
API-5L Grade B Seamless, ERW, HFW, LSAW, DSAW, HSAW/SSAW (Spiral Welded) Line Pipe

API-5L Grade-B, X-42, X-46, X-52, X-56, X-60, X-65, X-70, X-80 PSL1 PSL2 Line Pipe
API 5L Grade B PSL1 Line Pipes – Available ex-stock
API 5L Grade B PSL2 Line Pipes – Available ex-stock
API 5L Grade B PSL1 Sour Service Line Pipes – Available ex-stock
API 5L Grade B PSL2 Sour Service Line Pipes – Available ex-stock
API 5L Grade B PSL1 NACE MR-0175 Line Pipes – Available ex-stock
API 5L Grade B PSL2 NACE MR-0175 Line Pipes – Available ex-stock
API 5L X42 PSL1 Line Pipes – Available ex-stock
API 5L X42 PSL2 Line Pipes – Available ex-stock
API 5L X42 PSL1 Sour Service Line Pipes – Available ex-stock
API 5L X42 PSL2 Sour Service Line Pipes – Available ex-stock
API 5L X42 PSL1 NACE MR-0175 Line Pipes – Available ex-stock
API 5L X42 PSL2 NACE MR-0175 Line Pipes – Available ex-stock
API 5L X46 PSL1 Line Pipes – Available ex-stock for stock availability
API 5L X46 PSL2 Line Pipes – Available ex-stock
API 5L X46 PSL1 Sour Service Line Pipes – Available ex-stock
API 5L X46 PSL2 Sour Service Line Pipes – Available ex-stock
API 5L X46 PSL1 NACE MR-0175 Line Pipes – Available ex-stock
API 5L X46 PSL2 NACE MR-0175 Line Pipes – Available ex-stock
API 5L X52 PSL1 Line Pipes – Available ex-stock
API 5L X52 PSL2 Line Pipes – Available ex-stock
API 5L X52 PSL1 Sour Service Line Pipes – Available ex-stock
API 5L X52 PSL2 Sour Service Line Pipes – Available ex-stock
API 5L X52 PSL1 NACE MR-0175 Line Pipes – Available ex-stock
API 5L X52 PSL2 NACE MR-0175 Line Pipes – Available ex-stock
API 5L X56 PSL1 Line Pipes – Available ex-stock
API 5L X56 PSL2 Line Pipes – Available ex-stock
API 5L X56 PSL1 Sour Service Line Pipes – Available ex-stock
API 5L X56 PSL2 Sour Service Line Pipes – Available ex-stock
API 5L X56 PSL1 NACE MR-0175 Line Pipes – Available ex-stock
API 5L X56 PSL2 NACE MR-0175 Line Pipes – Available ex-stock
API 5L X60 PSL1 Line Pipes – Available ex-stock
API 5L X60 PSL2 Line Pipes – Available ex-stock
API 5L X60 PSL1 Sour Service Line Pipes – Available ex-stock
API 5L X60 PSL2 Sour Service Line Pipes – Available ex-stock
API 5L X60 PSL1 NACE MR-0175 Line Pipes – Available ex-stock
API 5L X60 PSL2 NACE MR-0175 Line Pipes – Available ex-stock
API 5L X65 PSL1 Line Pipes – Available ex-stock
API 5L X65 PSL2 Line Pipes – Available ex-stock
API 5L X65 PSL1 Sour Service Line Pipes – Available ex-stock
API 5L X65 PSL2 Sour Service Line Pipes – Available ex-stock
API 5L X65 PSL1 NACE MR-0175 Line Pipes – Available ex-stock
API 5L X65 PSL2 NACE MR-0175 Line Pipes – Available ex-stock
API 5L X70 PSL1 Line Pipes – Available ex-stock
API 5L X70 PSL2 Line Pipes – Available ex-stock
API 5L X70 PSL1 Sour Service Line Pipes – Available ex-stock
API 5L X70 PSL2 Sour Service Line Pipes – Available ex-stock
API 5L X70 PSL1 NACE MR-0175 Line Pipes – Available ex-stock
API 5L X70 PSL2 NACE MR-0175 Line Pipes – Available ex-stock
API 5L X80 PSL1 Line Pipes – Available ex-stock
API 5L X80 PSL2 Line Pipes – Available ex-stock
API 5L X80 PSL1 Sour Service Line Pipes – Available ex-stock
API 5L X80 PSL2 Sour Service Line Pipes – Available ex-stock
API 5L X80 PSL1 NACE MR-0175 Line Pipes – Available ex-stock
API 5L X80 PSL2 NACE MR-0175 Line Pipes – Available ex-stock
We mainly stock & supply the API-5L Grade-B, X-42, X-46, X-52, X-56, X-60, X-65, X-70, X-80 PSL1 PSL2 Line Pipe Seamless Pipe of following make :
API 5L Pipe of Sumitomo Metal – Japan
API 5L Pipe of Nippon Steel – Japan
API 5L Pipe of JFE Steel – Japan
API 5L Pipe of Kawasaki Steel – Japan
API 5L Pipe of Vallourec & Mannesmann – France
API 5L Pipe of Vallourec & Mannesmann – Germany
API 5L Pipe of Vallourec & Mannesmann – Brazil
API 5L Pipe of Salzgitter Mannesmann – Germany
API 5L Pipe of Arcelor Mittal Steel – Romania
API 5L Pipe of Arcelor Mittal Steel – Czech Republic
API 5L Pipe of Tenaris Dalmine – Spain
API 5L Pipe of Tenaris Silcotub – Romania
API 5L Pipe of Tenaris Siderca – Argentina
API 5L Pipe of Tenaris Tamsa – Mexico
API 5L Pipe of Tenaris NKK – Japan
API 5L Pipe of Volzhski – Russia
API 5L Pipe of Nizhnedneprovsky – Ukraine
API 5L Pipe of USS – USA
API 5L s Pipe of Welspun – India
API 5L Pipe of Jindal Saw – India
API 5L Pipe of Indian Seamless – India
API 5L Pipe of Maharashtra Seamless – India
API 5L Grade B, x42,x46,x52,X56,x56,x60,x70 Carbon Steel Seamless Pipe Sizes Available in Stock with Price
1/2″ NB in Thickness Schedule 20, Schedule 30, Schedule STD, Schedule 40, Schedule 60, Schedule 80, Schedule 100, Schedule 120, Schedule 160, Schedule XXS in A106 Grade B / A53 Grade B / API 5L Grade B / X42,x46,x52,x56,x60,x70,x80
3/4″ NB in Thickness Schedule 20, Schedule 30, Schedule STD, Schedule 40, Schedule 60, Schedule 80, Schedule 100, Schedule 120, Schedule 160, Schedule XXS in A106 Grade B / A53 Grade B / API 5L Grade B / X42,x46,x52,x56,x60,x70,x80
1″ NB in Thickness Schedule 20, Schedule 30, Schedule STD, Schedule 40, Schedule 60, Schedule 80,Schedule 100, Schedule 120, Schedule 160, Schedule XXS in A106 Grade B / A53 Grade B / API 5L Grade B / X42,x46,x52,x56,x60,x70,x80
1-1/4″ NB in Thickness Schedule 20, Schedule 30, Schedule STD, Schedule 40, Schedule 60, Schedule 80, Schedule 100, Schedule 120, Schedule 160, Schedule XXS in A106 Grade B / A53 Grade B / API 5L Grade B / X42,x46,x52,x56,x60,x70,x80
1-1/2″ NB in Thickness Schedule 20, Schedule 30, Schedule STD, Schedule 40, Schedule 60, Schedule 80, Schedule 100, Schedule 120, Schedule 160, Schedule XXS in A106 Grade B / A53 Grade B / API 5L Grade B / X42,x46,x52,x56,x60,x70,x80
2″ NB in Thickness Schedule 20, Schedule 30, Schedule STD, Schedule 40, Schedule 60, Schedule 80,Schedule 100, Schedule 120, Schedule 160, Schedule XXS in A106 Grade B / A53 Grade B / API 5L Grade B / X42,x46,x52,x56,x60,x70,x80
2-1/2″ NB in Thickness Schedule 20, Schedule 30, Schedule STD, Schedule 40, Schedule 60, Schedule 80, Schedule 100, Schedule 120, Schedule 160, Schedule XXS in A106 Grade B / A53 Grade B / API 5L Grade B / X42,x46,x52,x56,x60,x70,x80
3″ NB in Thickness Schedule 20, Schedule 30, Schedule STD, Schedule 40, Schedule 60, Schedule 80,Schedule 100, Schedule 120, Schedule 160, Schedule XXS in A106 Grade B / A53 Grade B / API 5L Grade B / X42,x46,x52,x56,x60,x70,x80
3-1/2″ NB in Thickness Schedule 20, Schedule 30, Schedule STD, Schedule 40, Schedule 60, Schedule 80, Schedule 100, Schedule 120, Schedule 160, Schedule XXS in A106 Grade B / A53 Grade B / API 5L Grade B / X42,x46,x52,x56,x60,x70,x80
4″ NB in Thickness Schedule 20, Schedule 30, Schedule STD, Schedule 40, Schedule 60, Schedule 80,Schedule 100, Schedule 120, Schedule 160, Schedule XXS in A106 Grade B / A53 Grade B / API 5L Grade B / X42,x46,x52,x56,x60,x70,x80
5″ NB in Thickness Schedule 20, Schedule 30, Schedule STD, Schedule 40, Schedule 60, Schedule 80,Schedule 100, Schedule 120, Schedule 160, Schedule XXS in A106 Grade B / A53 Grade B / API 5L Grade B / X42,x46,x52,x56,x60,x70,x80
6″ NB in Thickness Schedule 20, Schedule 30, Schedule STD, Schedule 40, Schedule 60, Schedule 80,Schedule 100, Schedule 120, Schedule 160, Schedule XXS in A106 Grade B / A53 Grade B / API 5L Grade B / X42,x46,x52,x56,x60,x70,x80
8″ NB in ThicknessSchedule 20, Schedule 30, Schedule STD, Schedule 40, Schedule 60, Schedule 80,Schedule 100, Schedule 120, Schedule 160, Schedule XXS in A106 Grade B / A53 Grade B / API 5L Grade B / X42,x46,x52,x56,x60,x70,x80
10″ NB in Thickness Schedule 20, Schedule 30, Schedule STD, Schedule 40, Schedule 60, Schedule 80, Schedule 100, Schedule 120, Schedule 160, Schedule XXS in A106 Grade B / A53 Grade B / API 5L Grade B / X42,x46,x52,x56,x60,x70,x80
12″ NB in ThicknessSchedule 20, Schedule 30, Schedule STD, Schedule 40, Schedule 60, Schedule 80, Schedule 100, Schedule 120, Schedule 160, Schedule XXS in A106 Grade B / A53 Grade B / API 5L Grade B / X42,x46,x52,x56,x60,x70,x80
14″ NB in Thickness Schedule 20, Schedule 30, Schedule STD, Schedule 40, Schedule 60, Schedule 80, Schedule 100, Schedule 120, Schedule 160, Schedule XXS in A106 Grade B / A53 Grade B / API 5L Grade B / X42,x46,x52,x56,x60,x70,x80
16″ NB in Thickness Schedule 20, Schedule 30, Schedule STD, Schedule 40, Schedule 60, Schedule 80, Schedule 100, Schedule 120, Schedule 160, Schedule XXS in A106 Grade B / A53 Grade B / API 5L Grade B / X42,x46,x52,x56,x60,x70,x80
18″ NB in Thickness Schedule 20, Schedule 30, Schedule STD, Schedule 40, Schedule 60, Schedule 80, Schedule 100, Schedule 120, Schedule 160, Schedule XXS in A106 Grade B / A53 Grade B / API 5L Grade B / X42,x46,x52,x56,x60,x70,x80
20″ NB in Thickness Schedule 20, Schedule 30, Schedule STD, Schedule 40, Schedule 60, Schedule 80, Schedule 100, Schedule 120, Schedule 160, Schedule XXS in A106 Grade B / A53 Grade B / API 5L Grade B / X42,x46,x52,x56,x60,x70,x80
22″ NB in Thickness Schedule 20, Schedule 30, Schedule STD, Schedule 40, Schedule 60, Schedule 80, Schedule 100, Schedule 120, Schedule 160, Schedule XXS in A106 Grade B / A53 Grade B / API 5L Grade B / X42,x46,x52,x56,x60,x70,x80
24″ NB in Thickness Schedule 20, Schedule 30, Schedule STD, Schedule 40, Schedule 60, Schedule 80, Schedule 100, Schedule 120, Schedule 160, Schedule XXS in A106 Grade B / A53 Grade B / API 5L Grade B / X42,x46,x52,x56,x60,x70,x80
26″ NB in Thickness Schedule 20, Schedule 30, Schedule STD, Schedule 40, Schedule 60, Schedule 80, Schedule 100, Schedule 120, Schedule 160, Schedule XXS in A106 Grade B / A53 Grade B / API 5L Grade B / X42,x46,x52,x56,x60,x70,x80
28″ NB in Thickness Schedule 20, Schedule 30, Schedule STD, Schedule 40, Schedule 60, Schedule 80, Schedule 100, Schedule 120, Schedule 160, Schedule XXS in A106 Grade B / A53 Grade B / API 5L Grade B / X42,x46,x52,x56,x60,x70,x80
30″ NB in Thickness Schedule 20, Schedule 30, Schedule STD, Schedule 40, Schedule 60, Schedule 80, Schedule 100, Schedule 120, Schedule 160, Schedule XXS in A106 Grade B / A53 Grade B / API 5L Grade B / X42,x46,x52,x56,x60,x70,x80
32″ NB in Thickness Schedule 20, Schedule 30, Schedule STD, Schedule 40, Schedule 60, Schedule 80, Schedule 100, Schedule 120, Schedule 160, Schedule XXS in A106 Grade B / A53 Grade B / API 5L Grade B / X42,x46,x52,x56,x60,x70,x80
34″ NB in Thickness Schedule 20, Schedule 30, Schedule STD, Schedule 40, Schedule 60, Schedule 80, Schedule 100, Schedule 120, Schedule 160, Schedule XXS in A106 Grade B / A53 Grade B / API 5L Grade B / X42,x46,x52,x56,x60,x70,x80
36″ NB in Thickness Schedule 20, Schedule 30, Schedule STD, Schedule 40, Schedule 60, Schedule 80, Schedule 100, Schedule 120, Schedule 160, Schedule XXS in A106 Grade B / A53 Grade B / API 5L Grade B / X42,x46,x52,x56,x60,x70,x80