ISO Approved Manufacturer & Exporter of ASTM A790/A789 UNS S32750 Super Duplex Steel Pipes & Tubes.
ASTM A790 UNS S32750 Super Duplex 2507 werkstoff nr.1.4410 Seamless Pipes & Tubes Manufacturer, Exporter & Suppliers.
UNS S32750 Super Duplex Steel Seamless Pipes & Tubes, Welded Pipes & Tubes, ERW Pipes Suppliers in India.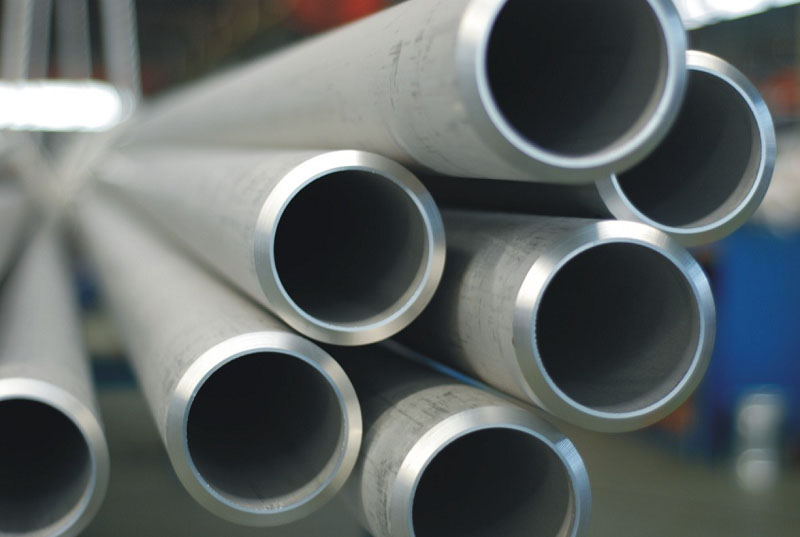 UNS S32750 Super Duplex Steel Pipes & Tubes

kind of channels reliably gained by the clients who are require unprecedented quality and disintegration insurance . The steel has brilliant assurance from chloride extend utilization breaking, high warm conductivity and a low coefficient of warm improvement. Also, the high chromium, molybdenum, and nitrogen levels give incredible security from setting, crevice, and general utilization.

By far most of 2507/1.4410 duplex steel channels are made by nippy drawn procedure . The compound has higher yield quality and lower adaptability than austenitic steels so fabricators may fid that higher encircling forces , extended traverse of bowing , and extended settlement for springback are imperative . Significant representation , broaden surrounding , and equivalent techniques are more difficult to perform on 2507 than on an austenitic stainless steel . While forming requires more than 10% crisp misshapening , an answer temper and douse are proposed . In addition, finished cool drawn duplex steel pipe , maker should be game plan fortified and doused . The base toughening tempeture is 19250F . Toughening should be taken after in a split second by a fast air or water stifle. To procure most noteworthy disintegration insurance, warm treated things should be cured and flushed.
| | | |
| --- | --- | --- |
| STANDARD | UNS | WERKSTOFF NR. |
| Super Duplex S2507 | S32750 | 1.4410 |
Specfication
Material Grade
S32205 , S31803 , S32304 , S32750, F51 , F53 , 2205 , 2507 etc
Outer Diameter
5.80mm – 323.90mm (0.23″ to 12″)
Wall Thickness
0.71mm – 25.4mm (0.04″ to 1″)
Length
as per customer�s requirement
Standard
ASTM A789 ; ASTM A790 ; EN 10216-5ect .
Application
a) Petroleum
b) Chemical industry
c) Instrument
d) Industrial transportation
e) Mechanical structure industry
f) Need high corrision ability pipe's industry , such as offshore industry etc
Advantages
a) Superior surface finish
b) Better mechanical property
c) More precise dimension
d) Perfect inspection method and inspection equipment
Chemical Composition :
| | | | | | | | | | | | |
| --- | --- | --- | --- | --- | --- | --- | --- | --- | --- | --- | --- |
| UNS No | Grade | C | Si | Mn | P | S | Cr | Mo | Ni | N | Other |
| S32750 | 2507 | 0.030 | 0.80 | 1.20 | 0.035 | 0.020 | 24.0/26.0 | 3.0/5.0 | 6.00/8.00 | 0.24/0.32 | Cu:0.50 |
Mechanical Properties:
UNS No
Grade
Proof Stress0.2% (MPa)
Tensile Strength(MPa)
ElongationA5(%)
Hardness Max
HB
HRB

S32750

2507

550

795

15

310

32*
Type Of UNS S32750 Super Duplex Steel Seamless Pipes & Tubes
UNS S32750 Tubes
UNS S32750 Welded Pipes
UNS S32750 Seamless Pipes
Super Duplex Tubes
Super Duplex Steel Welded Pipes
Super Duplex Steel Seamless Pipes
Super Duplex 2507
Applications:
Electronics
Transport and traffic
Pulp and paper industry
Medicine
Fertilizers
Valve & Pumps
Petrochemical
Architecture and construction
Aerospace
Nuclear Power
Energy industry
Chemicals industry
Nickel Alloy in Pulp and Paper
Motor industry
Food and drink
Available Super Duplex Stainless Steel Pipes
Super Duplex stainless steel 2507 Seamless Pipe Inconel Pipe Tubes at factory rate Super Duplex stainless steel 2507 Seamless Tube Inconel Pipe Tubes at factory rate Super Duplex stainless steel 2507 Welded Pipe Inconel Pipe Tubes at factory rate Super Duplex stainless steel 2507 Welded Tube Inconel Pipe Tubes at factory rate Super Duplex stainless steel pipe