SMO 254 HEX NUTS EXPORTER IN BAHRAIN, SMO 254 STEP BOLTS MANUFACTURERS, SMO 254 CAP SCREWS EXPORTER IN SOUTH AFRICA.
SPECIALIST OF MANUFACTURING SMO 254 FENDER WASHERS, STANDARD SIZE SMO 254 FORGED FASTENER STOCKIST, SMO 254 WELD STUDS .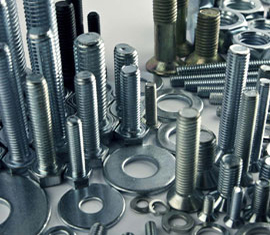 We are one of the well-known manufacturer, trader and exporter of 254 SMO Fasteners that offer our customers in general quality standard. Composite 254 Fasteners (UNS S31254) has high security from chloride broaden use breaking. Overall utilized as a substitution in basic parts of more prominent enhancements where Type 316L or 317L has barraged by setting or chloride push use section, 254 SMO Fasteners withstands a near hazardous conditions. They are a significant part of the time utilized as a bit of Chemical Process Industry, for example, for Urea Production, Organic and Fatty Acids, High halide fixations, and so on. Some basic applications are toward the sea, marine condition and inside compound industry.
254 SMO Square Bolts Exporter in Malaysia, SMO 254 Wing Nuts Stockiest, DIN 1.4547 Lag Screws Manufacturers.
With high levels of chromium, molybdenum, and nitrogen, 254 SMO is especially suited for high chloride environments such as brackish water seawater pulp mill bleach plants and other high chloride process streams. We offer these products in dissimilar shapes, sizes and specifications at best possible rates. We Export SMO 254 Fasteners in Qatar, Kingdom Of Bahrain, Saudi Arabia, Indonesia, United States, Singapore, Malaysia, Turkey, UAE, Russia, Ukraine, South Africa, Australia, etc.
SMO 254 Ogee Washers Stock Holder, ASTM B479 SMO 254 Industrial Studs, UNS S31254 Fasteners Suppliers in India. ASTM B479 SMO 254 Fasteners Specification : Size : M02 to M30
Length :
3 mm To 200 mm
Specifications :
ASTM B 479 / ASME SB 479
Dimensions :
DIN, ASTM, BS and all International Standards
SMO 254 Fasteners Equivalent Grades
| | | | | | | | | |
| --- | --- | --- | --- | --- | --- | --- | --- | --- |
| STANDARD | WERKSTOFF NR. | UNS | AFNOR | SIS | GOST | BS | OR | EN |
| SMO 254 | 1.4547 | S31254 | Z1 CNDU 20.18.06Az | 2378 | - | - | - | X1CrNiMoCuN20-18-7 |
Dealer, Distributor & Stockist, Manufacturers of SMO 254 Fasteners Chemical Composition
Grade
%
Ni
Cr
Mo
Cu
N
C
Mn
Si
P
S
SMO 254
Min.
17.5
19.5
6
0.5
0.18
Max.
18.5
20.5
6.5
1
0.22
0.02
1
0.8
0.03
0.01
SMO 254 Fasteners Mechanical & Physical Properties
| | | | | | |
| --- | --- | --- | --- | --- | --- |
| Element | Density | Melting Point | Tensile Strength | Yield Strength (0.2%Offset) | Elongation |
| SMO 254 | 8.0 g/cm3 | 1320-1390 ? | 650 | 300 | 35 |
Leading Manufacturers of 254 SMO Fasteners & Other Ready Inventory of SMO 254 Fasteners

We Manufacture a wide range of SMO 254 Fasteners (ASTM B479, ASME SB479 ), SMO 254 Forged Fasteners Exporter in India, SMO 254 Stove Bolts, SMO 254 Jam Nuts, SMO 254 Eye Screws Stockholder, UNS S31254 Flat Washers Dealers, SMO 254 Hurricane Studs Distributors, SMO 254 Toggle Bolts in Saudi Arabia, SMO 254 Miscellaneous Nuts Suppliers, DIN 1.4547 Plain Washers Exporter in Qatar, SMO 254 Threaded Studs Stockist, SMO 254 Open Eye Bolts in United States, SMO 254 Self-Drilling Screws in Malaysia, SMO 254 Carriage Bolts, Manufacturer of Comprehensive Range SMO 254 Fasteners, SMO 254 Bolts in UAE, T- Tee Nuts, SMO 254 Bonded Sealing Washers are Available in Different Dimensions and Specifications. We are Leading Manufacturer of Fasteners in INDIA.


We are Experts in Exporting SMO 254 Fasteners worldwide

We are Exporter of SMO 254 Fasteners in Worldwide Such as United States, Mexico, Tibet, Romania, Philippines, Israel, Iran, Malaysia, Greece, Norway, Saudi Arabia, Zimbabwe, Slovakia, Austria, Ukraine, Algeria, Argentina, Libya, Kuwait, Peru, Japan, Nigeria, Estonia, Denmark, Kenya, Yemen, Bangladesh, Netherlands, Oman, Chile, Kazakhstan, Turkey, Serbia, Morocco, Germany, Pakistan, Azerbaijan, China, Chile, Ghana, Bhutan, Namibia, Venezuela, Russia, Croatia, Jordan, Mongolia, Ecuador, Egypt, Afghanistan, Lithuania, Bulgaria, Spain, Nepal, Mexico, Hong Kong, South Africa, Macau, Poland, Sweden, Puerto Rico, Italy, Czech Republic, Bolivia, Ireland, Brazil, Qatar, Canada, Australia, Finland, France, United Arab Emirates, Trinidad & Tobago,Tunisia, India, Vietnam, Costa Rica, United Kingdom, Taiwan, Iraq, Gabon, New Zealand, Lebanon, South Korea, Singapore, Nigeria, Poland, Portugal, Gambia, Belgium, Thailand, Iran, Belarus, Hungary, Angola, Bahrain, Indonesia, Sri Lanka, Colombia, Switzerland .

We are Supplier of SMO 254 Fasteners in India

We are Suppliers of SMO 254 Fasteners in India Such as Chennai, Colombo, Port-of-Spain, Petaling Jaya, Ranchi, Kuwait City, Courbevoie, Pune, Los Angeles, Ho Chi Minh City, New Delhi, Mumbai, Santiago, Rio de Janeiro, Surat, Ernakulam, Jeddah, Bhopal, Lahore, Aberdeen, Abu Dhabi, Haryana, Thiruvananthapuram, Ankara, Baroda, Moscow, Noida, Jaipur, Secunderabad, Seoul, Navi Mumbai, Riyadh, Jakarta, Montreal, Kuala Lumpur, Manama, Ahvaz, Karachi, Gurgaon, Hyderabad, Faridabad, Calgary, Granada, La Victoria, Milan, Edmonton, Hong Kong, Kanpur, Al Jubail, Tehran, Al Khobar, Nagpur, New York, Visakhapatnam, Brisbane, Vadodara, Perth, London, Ulsan, Melbourne, Thane, Cairo, Doha, Atyrau, Istanbul, Busan, Bogota, Indore, Sydney, Algiers, Kolkata, Geoje-si, Chandigarh, Rajkot, Mexico City, Dammam, Muscat, Dubai, Howrah, Gimhae-si, Chiyoda, Bengaluru, Hanoi, Ludhiana, Caracas, Sharjah, Pimpri-Chinchwad, Lagos, Bangkok, Dallas, Ahmedabad, Vung Tau, Jamshedpur, Coimbatore, Singapore, Toronto, Madrid, Nashik, Houston.