SMO 254 BUTTWELD PIPE FITTINGS, ASTM B403 SMO 254 BUTTWELD ELBOW, UNS S31254 REDUCER FITTINGS STOCK HOLDER.
ASME B16.9 EQUAL & UNEQUAL TEES MANUFACTURERS, 254 SMO BEND EXPORTER IN QATAR, SMO 254 CROSS SUPPLIERS IN INDIA.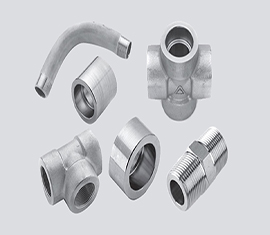 We are one of the prominent trader, manufacturer and exporter of SMO 254 Butt Weld Pipe Fittings that offer our clients in overall quality standard. Blend 254 Pipe Fittings is an austenitic stainless steel with high molybdenum content. 254 SMO Pipe Fittings (UNS S31254) is extremely an austenitic stainless steel, great with the customary austenitic stainless steels, illustrated with hoisted measures of chromium, molybdenum, and nitrogen for most prominent security from setting and crevice disintegration. Overhauled levels of two key segments, chromium and molybdenum, notwithstanding the extension of nitrogen give these 254 SMO Butt Weld Pipe Fittings fantastically improved setting and crevice utilization insurance in chlorides.
SMO 254 Pipe Cap Exporter in Saudi Arabia, SMO 254 Stubends Manufacturers, 254 SMO Pipe Nipple Exporter in Russia.
Meanwhile, Alloy 254 Butt Weld Pipe Fittings has outstanding corrosion resistance. We offer these products in different sizes, shapes and specifications at market leading prices. We Export SMO 254 Buttweld Pipe Fittings in Qatar, Kingdom Of Bahrain, Saudi Arabia, Indonesia, United States, Singapore, Malaysia, Turkey, UAE, Russia, Ukraine, South Africa, Australia, etc.
Specialist of Manufacturing 254 SMO Long Radius Elbow, Standard Size SMO 254 Pipe Fittings Stockist, SMO 254 Long Radius Bends.
ASTM B403 SMO 254 Buttweld Pipe Fittings Specification :
Size : 3/4" - 12"
Specifications :
ASTM B403 / ASME SB403
Standards :
ANSI/ASME B16.9, B16.28, MSS-SP-43.
Schedule :
SCH 10, SCH20, SCH30, SCH40
Type :
Seamless / Welded / Fabricated)
SMO 254 Pipe Fittings Equivalent Grades
| | | | | | | | | |
| --- | --- | --- | --- | --- | --- | --- | --- | --- |
| STANDARD | WERKSTOFF NR. | UNS | AFNOR | SIS | GOST | BS | OR | EN |
| SMO 254 | 1.4547 | S31254 | Z1 CNDU 20.18.06Az | 2378 | - | - | - | X1CrNiMoCuN20-18-7 |
Dealer, Distributor & Stockist, Manufacturers of SMO 254 Butt Weld Fittings Chemical Composition
Grade
%
Ni
Cr
Mo
Cu
N
C
Mn
Si
P
S
SMO 254
Min.
17.5
19.5
6
0.5
0.18
Max.
18.5
20.5
6.5
1
0.22
0.02
1
0.8
0.03
0.01
SMO 254 Butt weld Pipe Fittings Mechanical & Physical Properties
| | | | | | |
| --- | --- | --- | --- | --- | --- |
| Element | Density | Melting Point | Tensile Strength | Yield Strength (0.2%Offset) | Elongation |
| SMO 254 | 8.0 g/cm3 | 1320-1390 ? | 650 | 300 | 35 |
Leading Manufacturers of SMO 254 Butt weld Pipe Fittings & Other Ready Inventory of SMO 254 Pipe Fittings

We Manufacture a wide range of SMO 254 Pipe Fittings (ASTM B403, ASME S B403), SMO 254 Pipe Fittings Exporter in India, SMO 254 Pipe Fittings, ANSI B16.9 SMO 254 Buttweld Elbow, SMO 254 Reducer Stockholder, UNS S31254 Cross Dealers, SMO 254 Tees Distributors, SMO 254 Long Radius Bend in Saudi Arabia, SMO 254 90 deg Elbow Suppliers, DIN 1.4547 Pipe Fittings Exporter in Qatar, SMO 254 End Pipe Cap Stockist, SMO 254 Seamless Butt weld pipe fittings in United States, SMO 254 Pipe Nipple in Malaysia, SMO 254 Stub Ends, Manufacturer of Comprehensive Range SMO 254 Pipe Fittings, SMO 254 U Bend in UAE, Pipe Fittings, SMO 254 Industrial Pipe Fittings are Available in Different Dimensions and Specifications. We are Leading Manufacturer of Pipe Fittings in INDIA.


We are Experts in Exporting SMO 254 Pipe Fittings worldwide

We are Exporter of SMO 254 Butt weld Pipe Fittings in Worldwide Such as Thailand, Finland, Nigeria, Ghana, Austria, Mexico, Hungary, Hong Kong, Bulgaria, Sweden, Azerbaijan, Chile, Angola, Jordan, Ecuador, Czech Republic, United Arab Emirates, Kazakhstan, Gambia, Chile, Puerto Rico, Morocco, Ireland, Venezuela, Denmark, Japan, Yemen, Poland, Namibia, Switzerland, Peru, Slovakia, Sri Lanka, United Kingdom, Trinidad & Tobago,Tunisia, Malaysia, Colombia, Kuwait, Bangladesh, Singapore, Nigeria, France, Bolivia, Romania, Oman, Belgium, Gabon, Zimbabwe, Tibet, Poland, Bhutan, Iran, Kenya, Bahrain, Iran, South Africa, Croatia, Vietnam, United States, Libya, Lebanon, Argentina, Mexico, Mongolia, Algeria, China, India, Afghanistan, Indonesia, Qatar, South Korea, Greece, Philippines, Lithuania, Serbia, Estonia, Pakistan, Belarus, Saudi Arabia, Turkey, Portugal, Israel, Spain, Macau, Canada, Netherlands, Brazil, Italy, Nepal, Australia, Egypt, Costa Rica, Ukraine, Taiwan, Russia, Germany, Norway, Iraq, New Zealand.

We are Supplier of SMO 254 Butt weld Fittings in India
We are Suppliers of SMO 254 Butt weld Fittings in India Such as Nagpur, Ulsan, London, Hyderabad, Ahvaz, Courbevoie, Busan, Lahore, Hong Kong, Los Angeles, Brisbane, Bogota, Bangkok, Nashik, Visakhapatnam, Thane, Istanbul, Muscat, Riyadh, Dammam, Sydney, Vadodara, Chennai, New York, Toronto, Dallas, Ho Chi Minh City, New Delhi, Faridabad, Algiers, Pimpri-Chinchwad, Secunderabad, Kanpur, Jaipur, Caracas, Jakarta, Noida, Al Jubail, Lagos, Ankara, Haryana, Jeddah, Mexico City, Pune, Bhopal, Bengaluru, Jamshedpur, Vung Tau, Hanoi, Surat, Cairo, Seoul, Gimhae-si, Houston, Chandigarh, Atyrau, Howrah, Baroda, Manama, Gurgaon, Madrid, Coimbatore, La Victoria, Sharjah, Milan, Calgary, Dubai, Mumbai, Edmonton, Kuala Lumpur, Moscow, Melbourne, Tehran, Ahmedabad, Perth, Doha, Thiruvananthapuram, Rio de Janeiro, Colombo, Montreal, Indore, Ludhiana, Granada, Santiago, Kolkata, Karachi, Rajkot, Ernakulam, Geoje-si, Ranchi, Kuwait City, Port-of-Spain, Chiyoda, Al Khobar, Petaling Jaya, Aberdeen, Singapore, Navi Mumbai, Abu Dhabi.